Hi there, for my final year research project I need to design a surface that has bumps on in a specific pattern which can then be 3d printed and then sprayed with nano particles. However I'm struggling with how to create the surface in the first place, so far I've tried doing it with a 3D bubble textured surface in the materials tree in solid works but it takes forever to run and I wanted to know if theres a better way of doing it. 
Any help would be greatly appreciated! 
So far this is what it looks like, I know it wont look perfect due to rendering etc but the desired outcome is to look something like this: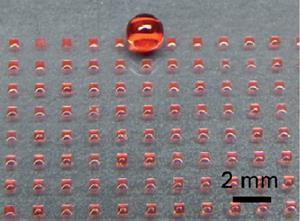 Thanks!